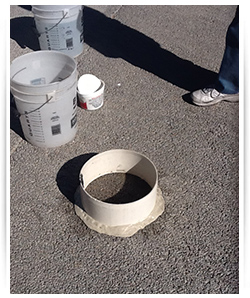 Pervious Concrete: The Whys and Hows of Construction and Maintenance
If you want an environmentally friendly surface for your sidewalk or parking garage, what is the best material to use? Pervious concrete – this material functions as more than just a surface cover; it is part of a system for actually managing stormwater.
A good system starts with good design, followed by proper construction and regular maintenance.
In order to prevent or minimize the flow of sediment-laden water onto the pavement, design a system that coordinates with the surrounding landscape and uses curbs or other barriers to ensure that water flows where you need it.
Closing construction may be challenging because contractors are probably unused to protecting pavements from sediment. Because of this, pervious concrete often becomes clogged with dirt, mulch, or other materials during this phase. Educate your work crew an if this still occurs, these materials should be sprayed off with a pressure washer or flushed through the pavement in order to restore the pavement to 100% infiltration capacity. Following the above advice for design, construction, and maintenance of pervious concrete will ensure your property has environmentally friendly surfacing that lasts.
When the pavement is in the operational phase, it is essential to regularly clean the concrete, both for the life of your surface and in order to comply with Best Management Practices (BMPs).
Asphalt parking lots are prone to producing sediment through normal wear and tear.
Sweeping is the first line of maintenance.
The second type of maintenance your surface requires is regular pressure washing.
You should always consider the type and sources of traffic that will use the pavement.
Mr. Pressure Wash uses water suction technology in conjunction with our power washing process to clean pervious concrete.